Book: Spiritual Ecology: The Cry of the Earth
NEW Edition, New Voices
Fall 2016:
Spiritual Ecology: The Cry of the Earth
A Collection of Essays
Edited by Llewellyn Vaughan-Lee
The Zen Master Thich Nhat Hanh was asked
what we need to do to save our world.
"What we most need to do," he replied,
"is to hear within us the sound of the earth crying."
Our present ecological crisis is the greatest man-made disaster this planet has ever faced—its accelerating climate change, species depletion, pollution and acidification of the oceans. A central but rarely addressed aspect of this crisis is our forgetfulness of the sacred nature of creation, and how this affects our relationship to the environment. There is a pressing need to articulate a spiritual response to this ecological crisis. This is vital and necessary if we are to help bring the world as a living whole back into balance.
The first edition of this book (published in 2013) fostered the emergence of the "Spiritual Ecology Movement," which recognizes the need for a spiritual response to our present ecological crisis. It drew an overwhelmingly positive response from readers, many of whom are asking the simple question, "What can I do?"
This second expanded edition offers new chapters, including two from younger authors who are putting the principles of spiritual ecology into action, working with their hands as well as their hearts. It also includes a new preface and revised chapter by Llewellyn Vaughan-Lee, that reference two major recent events: the publication of Pope Francis's encyclical, "On Care for Our Common Home," which brought into the mainstream the idea that "the ecological crisis is essentially a spiritual problem"; and the 2015 Paris Climate Change Conference, which saw representatives from nearly 200 countries come together to address global warming, including faith leaders from many traditions.
Bringing together voices from Buddhism, Sufism, Christianity, and Native American traditions, as well as from physics, deep psychology, and other environmental disciplines, this book calls on us to reassess our underlying attitudes and beliefs about the Earth and wake up to our spiritual as well as physical responsibilities toward the planet.
Contributors include: Chief Oren Lyons, Thich Nhat Hanh, Sandra Ingerman, Joanna Macy, Sister Miriam MacGillis, Satish Kumar, Vandana Shiva, Fr. Richard Rohr, Bill Plotkin, Jules Cashford, Wendell Berry, Winona LaDuke, Mary Evelyn Tucker, Brian Swimme, and others.
Published by The Golden Sufi Center
ORDER FROM THE PUBLISHER:
Individuals: order online, or call (415) 663-0100, Mon – Fri 9am – 5:30pm (PT)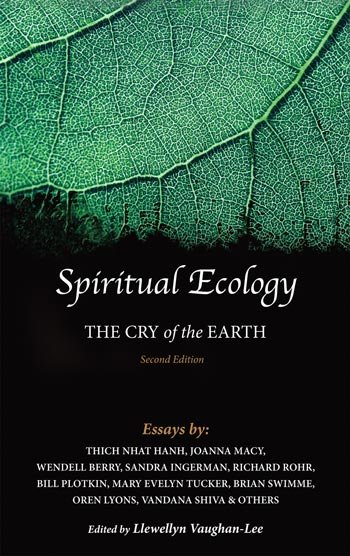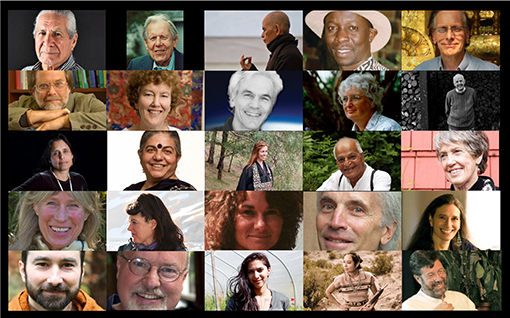 CLICK TO READ BIOS:
Chief Oren Lyons – Thomas Berry – Thich Nhat Hanh – Chief Tamale Bwoya – John Stanley – David Loy – Mary Evelyn Tucker – Brian Swimme – Sr. Miriam MacGillis – Wendell Berry – Winona LaDuke – Vandana Shiva – Dr. Susan Murphy Roshi – Satish Kumar – Joanna Macy – Geneen Marie Haugen – NEW: Eleanor O'Hanlon – Jules Cashford – Bill Plotkin – Sandra Ingerman – Pir Zia Inayat Khan – Fr. Richard Rohr – NEW: Shephali Patel – NEW: Lyla June Johnston – Llewellyn Vaughan-Lee
Indigenous nations and peoples believe in the spiritual powers of the universe. We believe in the ultimate power and authority of a limitless energy beyond our comprehension. We believe in the order of the universe. We believe in the laws of creation and that all life is bound by these same natural laws. We call this essence the spirit of life. This is what gives the world the energy to create and procreate, and becomes the ponderous and powerful law of regeneration—the law of the seed.
—OREN LYONS
Ch 1. Listening to Natural Law
There is now a single issue before us: survival. Not merely physical survival, but survival in a world of fulfillment, survival in a living world, where the violets bloom in the springtime, where the stars shine down in all their mystery, survival in a world of meaning.
—THOMAS BERRY
Ch 2. The World of Wonder
When you look at what is happening to our world—and it is hard to look at what is happening to our water, our air, our trees, our fellow species—it becomes clear that unless you have some roots in a spiritual practice that holds life sacred and encourages joyful communion with all your fellow beings, facing the enormous challenges ahead becomes nearly impossible.
—JOANNA MACY
Ch 13. The Greening of the Self
Endorsements
"It's hard to imagine finding a wiser group of humans than the authors represented here, all of them both thinkers and do-ers in the greatest battle humans have ever faced. An epic collection!"
—BILL MCKIBBEN, founder 350.org
"This book provides fresh thinking about the spiritual approaches of consciously and consistently making the right choices, each of us within our respective sphere of influence. As the world works towards a new global climate agreement in 2015, it is in our interest and in the interest of future generations to reflect on how we can inpidually and collectively contribute to addressing climate change by making our economies and lifestyles more sustainable, because solving climate change can help solve many of the issues the earth currently faces. Climate change is therefore both a challenge and an opportunity. I hope this book inspires and energizes many readers eager to rise to the greatest challenge ever to face humanity by realizing the transformative opportunities we have in front of us."
—CHRISTIANA FIGUERES, Executive Secretary of the United Nations
Framework Convention on Climate Change (UNFCCC)
"Some of the most inspiring voices on behalf of our living planet speak forth with power and clarity in this hugely important and timely book. Their words help us find our true home and our rightful place within the great turning world of Nature."
—STEPHAN HARDING, Ph.D, author
Animate Earth: Science, Intuition, & Gaia,
and founding member of Schumacher College
"In ancient times, oracles were consulted in order to translate the winds of the gods into wise counsel for the living to come. This gathering of elders from all over the globe assembled by Llewellyn Vaughan-Lee in Spiritual Ecology is nothing short of a modern oracle whose voices translate the wisdom of the Earth we must care for. Whatever your passion or work, read this book to better know the irreplaceable ground we all depend on."
—MARK NEPO, author Seven Thousand Ways to Listen and The Book of Awakening. www.marknepo.com
"Spiritual Ecology is a superb collection of thoughtful pieces by people who have gone deep to understand our relations with the Earth. It comes at a crucial time for humanity."
—BARRY LOPEZ, landscape photographer and author of the
National Book Award winning Arctic Dreams, Of Wolves and Men,
Crossing Open Ground and About this Life. www.barrylopez.com
"Humanity is in the process of evolving to a higher level of consciousness. Our time has come. Over our short and violent history, humanity has traveled a long way down the wrong path. We desperately need to find our way back home before we are forever lost. To make this shift, all who are alive today must learn to live in harmony with the Earth. This book carries urgently needed messages for everyone on the planet. I know this because I have witnessed how damaging human impact is on natural ecosystem function and how little time we have left to change this. It is our choice and it is our responsibility to act with courage and wisdom. Spiritual Ecology is helping to lead the transition by amplifying the Earth's voice that we so badly need to hear."
—JOHN D. LIU, director Environmental Education Media Project (EEMP),
Senior Research Fellow IUCN, Visiting Fellow Faculty of Earth and Life Sciences, VU (Vrije University Amsterdam)
"This book is a call to action. It requires us to put down every-day concerns that preoccupy our minds and listen with our hearts to the testaments of how desperately the earth needs us. At every moment, our physical, emotional, and spiritual well-being are nurtured by the earth and yet, we are indifferent to this fact as we go about our way pursuing material success. This book is a timely reminder that we must find balance in our lives and give to others as much as we receive from the earth. We must develop compassion for all the living beings that suffer even as we benefit and we must generate courage to make a change in our own behavior. I thank the authors in the book for reinforcing my commitment to protect the earth as much as is in my power."
—HIS HOLINESS THE 17th KARMAPA,
OGYEN TRINLEY DORJE. www.kagyuoffice.org
"In many voices, Spiritual Ecology speaks a profound and essential truth, inspiring us all to listen to the cry, deepen our personal reflection, and expand the circle of conversation about our connection with Earth and with each other. Our human future depends on recognizing and embracing Earth as a sacred living being, our birth mother, the source of our nurture, and beyond price."
—DAVID KORTEN, author, The Great Turning and Agenda for a New Economy,
and co-founder and board chair of YES! Magazine. www.davidkorten.org
"Llewellyn Vaughan-Lee has assembled a gem of a book reflecting the bright inner light from a pantheon of our most luminary visionaries working to heal the Earth, and with it, ourselves. "Spiritual Ecology" elegantly repairs the most fundamental systems error in our relationship with the Earth: the celebration of the sacredness and oneness of all life. For millennia, prophets, mystics and poets have spoken about the oneness of all life. Today biology is confirming that belief with the most basic genetic fact of life: As human beings, we are literally kin with the entire persity of life, from the microbes to the mammals. This book is a must-read and will elevate your spirit, expand your vision, and nourish your heart."
—KENNY AUSUBEL, co-founder of Bioneers, www.bioneers.org,
author Dreaming the Future: Reimagining Civilization in the Age of Nature
and The Bioneers: Declarations of Interdependence
"This book takes us beyond—though not around—the grief and despair that the ecological crisis evokes. Herein lies an authentic possibility of healing through a transformation in our own ways of knowing, relating, and being."
—CHARLES EISENSTEIN, author Sacred Economics
and The Ascent of Humanity, http://charleseisenstein.net
"Like life herself, she thrums with the sounds of nature – and this book left me thrumming too. Our natural state is as one when we accord with natures' own laws and when we align our being with nature; that is where we find peace. This book is a step in that journey for us all to find peace."
—POLLY HIGGINS, advocate for Earth Law, award-winning author
of Eradicating Ecocide and Earth is our Business,
ecologist and voice for the Earth. www.pollyhiggins.com
"The collection of essays of renowned spokespeople have a sort of magical property that is a basic call to consciousness of our relationship to our Mother Earth. The messages reflect almost a supernatural quality to it through the shared knowledge, wisdom and ancient teachings about the importance of the sacred including our place as human beings of which we are only a small part of in the cycle of life."
—MONA POLACCA, M.S.W.,
International Council of Thirteen Indigenous Grandmothers,
Indigenous World Forum on Water & Peace, Co-Secretariat
"This wonderful anthology of concise but profound essays by scholars and practitioners who are among the foremost pioneers in spiritual ecology ranges widely from African to Zen spiritual traditions as it addresses the ultimate cause of environmental problems from the local to the global levels. That cause is human alienation from nature as nothing but soulless matter for objectification, commodification, and consumption. The ultimate solution is no less than a spiritual re-discovery, re-feeling, and re-connecting with nature as sacred. This skillfully crafted book will prove compelling in its penetrating knowledge and wisdom for university instructors and students from the natural sciences to the humanities, religious and secular professionals, and the general public."
—DR LESLIE E. SPONSEL, author
Spiritual Ecology: A Quiet Revolution,
www.spiritualecology.info
"The environmental crisis is inseparable from the spiritual crisis that exists within the soul of most modern and now post-modern men and women and is in fact an objectivization of this primarily inward crisis. The present volume consists of precious collection of essays by some of the most notable authorities in the field about the essentially spiritual character of the environmental crisis. May the cry of the earth which they describe so vividly in this book be heard far and wide by those who still have ears to hear the truth."
—SEYYED HOSSEIN NASR, University Professor of Islamic Studies,
George Washington University, author Man and Nature:
The Spiritual Crisis of Modern Man, www.nasrfoundation.org
"This magnificent collection of essays by many of the most respected and prominent voices in the global ecological movement is a rich source of energy, hope and delight in a time when so many of us are overwhelmed by the problems of the planet. They remind us anew of the responsibilities we share, the ideals we must live by, and the ancient and timeless and wisdom of the spiritual traditions of all cultures everywhere. This is a book to treasure, to meditate on and to live by."
—TOM CHEETHAM, author of All the World an Icon,
http://tomcheetham.blogspot.com
"The path that we have chosen of greed, destruction, ignorance, and disconnection from ourselves, one another and the earth has thrown us into a battle for our lives and for our future. The call for action that is expressed in this book gives us the guidance, the inspiration, and motivation that it will take to change the fundamental beliefs of our entire society to create a new world of oneness and peace. One of the most inspirational books of our time, not only a book, but a tool to reconnect with ourselves and the earth! Read it and live it! The survival of mine and future generations depends on it!"
—XIUHTEZCATL MARTINEZ, youth Indigenous Environmental Activist and Change Agent,
www.earthguardians.org
"We live in a time of ecological uncertainty and we need opportunities to reconnect with the sacred. Just as scientists are modern-day prophets who tell us why we must act to save our planet, the essayists in this book are sages who remind us why that work is worthwhile."
—THE REV. CANON SALLY G. BINGHAM, founder,
The Regeneration Project – Interfaith Power & Light
"This book is important to the survival of humanity. We must reconnect with Mother Earth and treat her as the source of all life instead of a resource to be plundered. The writers of this book are the real super heros of our times. They have done the deep work and have come to the point of understanding our true connection to Earth. This is the key to our future if we are to have one. Everyone must read this book, understand it and live it if we are to leave anything to our children and grandchildren."
—HANNE STRONG, founder The Manitou Foundation and Earth Restoration Corps
"What ails us is deeper than what's easily measurable by economics or science. Spiritual Ecology is a collection of profound writings by some of the wisest among us about the depths of the crisis and the wellsprings of redemption."
—DAVID W. ORR, Oberlin College, founder The Oberlin Project
"This book is filled with poetic, poignant, intelligent voices, calling for a fresh and deepened attention to our suffering planet. Listening and responding to the call is itself a path of true awakening–one that reveals our innate belonging to this living world, and the sacredness that shines through all of life."
—TARA BRACH, Ph.D., author Radical Acceptance
and True Refuge. www.tarabrach.com
"Time is running out on our ability to manage successfully our impacts on the earth, its environment, biopersity, resource and life-support systems on which human life as we know it depends. The response and action that is now required of us must be firmly rooted in our deepest moral and spiritual principles. The important collection of voices in this book address this urgent need. "
—MAURICE STRONG, former under-secretary general of the United Nations
author of Where on Earth Are We Going? and co-author Only One Earth: The Long Road via Rio to Sustainable Development. www.mauricestrong.net
"I am in awe of this magical book, where I recognised with emotion the spirit of a choice I made long ago, in this ancient land of Africa: listen to the songs of the Earth, reconnect with her soul, and by recapturing the reverence for all living things, and the duty to care, find the lost link with hope. "
—KUKI GALLMANN, author, I Dreamed of Africa
and founder,The Gallmann Memorial Foundation,
dedicated to the coexistence of people and nature in Africa.
"This book responds to the SOS of our planet with a life raft of new thinking, spiritual solace and inspirational calls to action. These essays teach us to both save and savor our resplendent blue and green mothership. I recommend it to all who feel the pain of the world and want to go to work."
—MARY PIPHER, author The Green Boat: Reviving Ourselves
in Our Capsized Culture (Penguin USA June 2013). www.marypipher.net
"The Earth is sacred. Such is the mantra of this gloriously timeless yet undeniably timely cry of a book."
—LAURIE LANE-ZUCKER, executive director Seven Pillars House of Wisdom
and former Executive Director of The Orion Society
"Spiritual Ecology is not just an important growing movement to watch, it is the critical development of our time. Environmental Studies, Cultural Studies, and Religious Studies scholars alike will benefit from this valuable resource for the classroom. Filled with insights from some of the world's most passionate eco-prophets, this volume's fascinating contributions all point toward a way into the future marked by peace and prosperity for the whole life community. Scholarly yet accessible, Spiritual Ecology was a delight to read, and I know my students will resonate with it as well."
—SARAH MCFARLAND TAYLOR, Ph.D., Associate Professor of
Religion Studies and Environmental Policy and Culture,
Northwestern University, author Green Sisters: A Spiritual Ecology
"The voices in this book offer a vital wake-up call, and a message of urgency and hope. Their vision represents a sustainable future—environmentally and spiritually."
—REV. FLETCHER HARPER, Executive Director, GreenFaith
"There is a transmission that comes through the words of those willing to be in true intimacy with life in all its agony and ecstasy, and we need that transmission. We need the pathways laid by those willing to feel it all, so that we can follow, feel and find a new way. This book is an anchor pull back into the poignancy of our own connectedness, via the gentle tugs and full hearted calls of the leaders gathered here. Earth is calling: read this book with an open heart and you will feel her…"
—CLARE DAKIN, founder TreeSisters
"In my scholarly work I have explored our Earth for signs of life in defense of life. The signs can be found in a host of social movements around the world, which are inspired by a growing chorus of passionate voices. This volume provides direct access to many of these voices, some well known, others less so, all wise. It belongs in public and university libraries, the classroom, and wherever activists gather for inspiration and action."
—BRON TAYLOR, professor of religion and nature, editor of The Journal for the Study of Religion, Nature & Culture, author Dark Green Religion: Nature Spirituality and the Planetary Furure, www.brontaylor.com