SACRED SEED: A Collection of Essays
by Global Peace Initiative of Women, with an introduction by Vandana Shiva
Essential to survival, seeds have profound spiritual implications. For centuries the planting of the seed in the earth not only nourished humanity, but also symbolized the mystery of life and the journey of the soul. In our current supermarket lifestyle of pre-packaged products, far removed from the cycles of planting, we have nearly forgotten this mystery. Now as the integrity of the seed is threatened, so is its primal meaning. Inspired by physicist and environmental leader Dr. Vandana Shiva, each essay draws on the wisdom of ancient and modern traditions. Mystics, shamans, monastics and priests remind us of the profound sacredness of the seed—how in its purity, it is the source and renewal of all of life.
Tenderly composed of original writings and vibrant photos, this book bears witness that the Earth is alive, and establishes that only by working together with the Earth—with its wonder and mystery—can we help in its healing and regeneration and once again bring meaning back into the world.
Edited and compiled by the Global Peace Intiative of Women, the book includes contributions from His All Holiness Ecumenical Patriarch Bartholomew, H. H. the 17th Gyalwang Karmapa Ogyen Trinley Dorje, Sister Joan Chittister, Llewellyn Vaughan-Lee, Pir Zia Inayat-Khan, Swami Veda Bharati, Rabbi Arthur Waskow, Chief Tamale Bwoya, Blu Greenberg & others.
View Book Trailer
Related Article
Purchase this book
---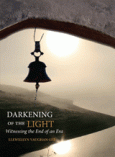 Darkening of the Light: Witnessing the End of an Era
by Llewellyn Vaughan-Lee
Darkening of the Light: Witnessing the End of an Era, a new book by Llewellyn Vaughan-Lee, is a witness to the loss of the light of the sacred reflected in our continued destruction and desecration of life's fragile ecosystem. This story of our collective destiny, however painful, needs to be heard if we are to take responsibility for the Earth and reclaim our sacred role as guardians of the planet.
"I bow to the courage in this book. Here Llewellyn Vaughan-Lee has allowed himself to hear the cry of the Earth. He has been brave enough to face and to feel the immensity of the loss. He has dared to share that with us and to hope we can wake-up to save what's left of our world and our souls."
—JOANNA MACY, coauthor, Active Hope: How to Face the Mess We're in Without Going Crazy.
View Book Trailer
Related Article
Purchase this book
---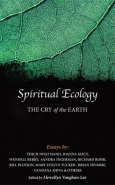 Spiritual Ecology: The Cry of the Earth
by Llewellyn Vaughan-Lee (editor)
The Zen Master Thich Nhat Hanh was asked what we need to do to save our world."What we most need to do," he replied,"is to hear within us the sound of the earth crying."
Our present ecological crisis is the greatest man-made disaster this planet has ever faced—its accelerating climate change, species depletion, pollution and acidification of the oceans. A central but rarely addressed aspect of this crisis is our forgetfulness of the sacred nature of creation, and how this affects our relationship to the environment. There is a pressing need to articulate a spiritual response to this ecological crisis. This is vital and necessary if we are to help bring the world as a living whole back into balance.
Contributors include: Chief Oren Lyons, Thich Nhat Hanh, Sandra Ingerman, Joanna Macy, Sister Miriam MacGillis, Satish Kumar, Vandana Shiva, Fr. Richard Rohr, Bill Plotkin, Jules Cashford, Wendell Berry, Winona LaDuke, Mary Evelyn Tucker, Brian Swimme, and others.
View Book Trailer
Purchase this book
Website
---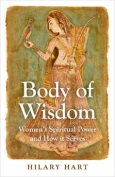 Body of Wisdom: Women's Spiritual Power and How it Serves
by Hilary Hart
A chakra in our breasts that emits spiritual nouishment into life… a secret substance inour bodies to heal the earth… a direct connection from our wombs to the creative center of the universe…
In Body of Wisdom, Hilary Hart identifies nine hidden powers alive in women's bodies and instincts, waiting to be used in contemporary challenges such as the creation of community, healing of the earth, and the restoration of life's spiritual nature. Based on interviews with the world's most visionary spiritual teachers and women's dreams and experiences, Body of Wisdom ushers in a new spirituality in which the body and the shared body of the earth are known as a seat of mystical power and women take responsibility for spiritual work that only they can do.
With: Dorothy Atalla, Elizabeth Frediani, Sandra Ingerman, Larry Merculieff, Sobonfu Somé, Guan-Cheng Sun, Llewellyn Vaughan-Lee, and Pamela Wilson.
For more information, visit: www.hilaryhart.org
---

The Dream of the Cosmos: A Quest for the Soul
by Anne Baring
Without a global revolution in the sphere of human consciousness, nothing will change for the better in the sphere of our being as humans, and the catastrophe toward which this world is headed – be it ecological, social, demographic, or a general breakdown of civilization will be unavoidable.
— Vávlav Havel, address to US Congress
To reclaim the sacred nature of the cosmos – and of planet Earth in particular – is one of the outstanding spiritual challenges of our time.
— Diarmuid O'Murchu, Quantum Theology
The Dream of the Cosmos is the story of a multi-layered quest to understand the causes of human suffering and to re-connect with a deeper reality than the one we inhabit in this physical dimension of experience. It is written for those who are looking for something beyond the superficial values of our culture, who may be disillusioned with religious and secular belief systems as currently presented and who question the political values which are deeply mired in the pursuit of power. It is written with two voices: one the voice of a personal quest and the other which explores the historical and psychological causes that have brought into being our present view of reality. 
For more information, please visit: www.annebaring.com
---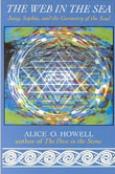 The Web in the Sea: Jung, Sophia, and the Geometry of the Soul
by Alice O. Howell
Geometry is hidden in the symbolism of all religions. In this magical book, Alice O. Howell weaves a ramble on the sacred island of Iona with a meditation on the geometrical forms we encounter everyday. With the meditating help of Sophia, the divine feminine principle of wisdom, she shows how we can decode the inner meaning of shapes, numbers, and other symbols through intuition, to enrich our experience of living and deepen our appreciation of the mystery of form.
---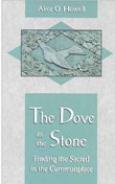 The Dove in the Stone: Finding the Sacred in the Commonplace
by Alice O. Howell
"What we are looking for on earth and in earth and in our lives is the process that can unlock for us the mystery of meaningfulness in our daily lives," writes Alice O. Howell. "It is the best-kept secret down through the ages because it is so simple. Truly, the last place it would ever occur for us to find the sacred would be in the commonplace of our everyday lives and all about us in nature and in simple things." Join Alice O'Howell on a magical ramble through the Celtic isle of Iona, in the Scottish Hebrides, in this deceptively simple, poetic jewel of a book. Our guide on this gentle travelogue of the soul is the Holy Sophia herself, the feminine aspect of wisdom, who teaches us to discover that the entire world is filled with outward and visible signs of inward and spiritual meaning.
---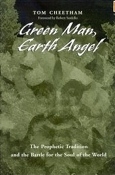 Green Man, Earth Angel: The Prophetic Tradition & the Battle for the Soul of the World
by Tom Cheetham
Green Man, Earth Angel explores the central role of imagination for understanding the place of humans in the cosmos. Tom Cheetham suggests that lives can only be completely whole if human beings come to recognize that the human and natural worlds are part of a vast living network and that the material and spiritual worlds are deeply interconnected. Central to this reimagining is an examination of the place of language in human life and art and in the worldview that the prophetic religions–Judaism, Christianity, and Islam–presuppose. If human language is experienced only as a subset of a vastly more-than-human whole, then it is not only humans who speak, but also God and the world with all its creatures. If humans' internal poetry and creative imaginations are part of a greater conversation, then language can have the vital power to transform the human soul, and the soul of the world itself.
---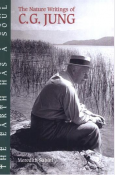 The Earth Has a Soul: C.G. Jung on Nature, Technology & Modern Life
by Meredith Sabini
Psychologist Meredith Sabini introduces a collection of Carl Jung's writings on the subject of nature. Jung asserts that society's loss of connection with nature has severed its link with the earthy, maternal foundation of life, or the collective unconscious. These writings reflect Jung's conviction that people must reestablish a relationship between the conscious and primordial aspects of themselves.
---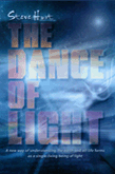 The Dance of Light: A new way of understanding the earth and all life forms as a single living being of light
by Steve Hurt
"The Dance of Light explores the inherent oneness within life from a unique perspective: a multi-dimensional journey from the mineral kingdom, to the subtle realms that surround us, to our role as human beings. Only through including these different realms can we understand the true nature of life's oneness, can we remember how the world is alive and permeated with light. The Dance of Light restores an original vision that is vital if we are to live the change that is so needed at this moment in time."
—Llewellyn Vaughan-Lee
About this Book: The Dance of Light offers us an account of a mystically inspired vision that describes the earth as a sacred, living being. Drawing from his knowledge of African earth lore and modern mysticism, Steve Hurt shows how the ancient earth rites of our ancestors can be incorporated into a modern vision of ecology that integrates the old with the newly evolving. In this integrated approach he also shares a modern Sufi perspective with us about how all of life is imbued with a subtle light, and how we can work with this light in our daily lives to assist the earth, and ourselves, in the birth of a new era. This book offers a refreshing diversion away from the popular ecological doomsday prophecies as it builds upon a positive and inspired vision of life that is filled with optimism about a new era of oneness. Ultimately, it shows us how our global community can work together to bring the sacred back into life, and thereby into our daily lives, helping to lay the foundations for a future that is alive with sacred purpose and in balance with the earth.
For more information and to download or purchase this book, please visit: thedanceoflight.co.za
---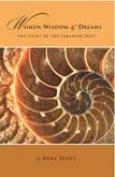 Women, Wisdom, & Dreams: The Light of the Feminine Soul
by Anne Scott
In this elegant and practical guide on feminine wisdom and dreams, Anne Scott leads us into a deepening relationship with our dream world, not only to help us understand its personal significance, but also to use the insights we uncover there to help heal our world.Asking us to cultivate a courageous attentiveness to our inner lives, Anne provides valuable tools for restoring the link between feminine spirituality and social change. Reclaiming the language of dreams, practicing states of inner attentiveness and stillness in our busy lives, and gathering in groups to share from a deeper place offer rich ways to reconnect to the love, joy and creativity that are our birthright and contribution to life.
---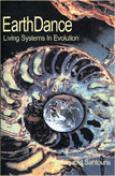 Earth Dance: Living Systems in Evolution

Seeing the marvellous evolution of our planet as an improvisational dance in which humanity plays an exciting role, Elisabet Sahtouris finds solutions to the economic, philosophic, and social issues of our day.
From the first chapter:
Everyone knows that humanity is in crisis, politically, economically, spiritually, ecologically; any way you look at it. Many see humanity as close to suicide by way of our own technology; many others see humans as deserving God's or nature's wrath in retribution for our sins. However we see it, we are deeply afraid that we may not survive much longer. Yet our urge to survival is the strongest urge we have, and we do not cease our search for solutions in the midst of crisis.
The proposal made in this book is that we see ourselves in the context of our planet's biological evolution, as a still new, experimental species with developmental stages that parallel the stages of our individual development. From this perspective, humanity is now in adolescent crisis and, just because of that, stands on the brink of maturity in a position to achieve true humanity in the full meaning of that word. Like an adolescent in trouble, we have tended to let our focus on the crisis itself or on our frantic search for particular political, economic, scientific, or spiritual solutions depress us and blind us to the larger picture, to avenues of real assistance. If we humbly seek help instead from the nature that spawned us, we will find biological clues to solving all our biggest problems at once. We will see how to make the healthy transition into maturity.
---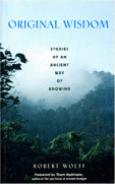 Original Wisdom: Stories of an Ancient Way of Knowing
by Robert Wolff
The aboriginal Sng'oi of Malaysia — pre-industrial, pre-agricultural — live without cars or cell phones, without clocks or schedules, in a lush, green place where worry and hurry, competition and suspicion are not known. These indigenous people – as do many other aboriginal groups – understand themselves to be part of all things, living and nonliving. From this understanding comes their acute and uncanny sense of the energies, emotions, and intentions of their place and the beings who populate it, and their willingness to follow this intuition and use it to make decisions about their actions each day.
Psychologist Robert Wolff, who has spent a lifetime with indigenous people from many parts of the world, lived with the Sng'oi during the years he spent in Malaysia. He learned their language, shared their food, slept in their shelters, and came to love and admire these people who respect silence, trust time to reveal and heal, and live entirely in the present with a sense of joy. Even more, he came to recognize the depth of our alienation from these ways of living.
Much more than a collective document of a disappearing people, these stories hold a mirror to our own existence, allowing us to see how far we have wandered from the ways of the Sng'oi. And ultimately they challenge us, in our fragmented world, to rediscover within ourselves the Sng'oi's humanity, trust, and sense of connection to all creation.
Robert Wolff was raised among the indigenous peoples of Indonesia. A psychologist and educator who has lived in Suriname, Southeast Asia, and Europe, he has taught at the University of Hawaii and currently lives on the Big Island.
---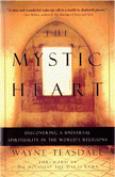 The Mystic Heart
by Wayne Teasdale
Drawing on his extraordinary experience as an interreligius monk and mystic, Brother Wayne Teasdale explores in The Mystic Heart what he calls interspirituality, a genuine and comprehensive spirituality that draws on the mystical core of the world's great religious traditions. After years within the Catholic lay monastic community, Teasdale found himself drawn to the visionary path of Father Bede Griffiths, who initiated him in the way of Sannyasa, the life of renunciation and dedication to the quest for God.
From this spiritual vantage, The Mystic Heart shows that what so often forms the basis for conflict can really be a meeting place of understanding. For Teasdale, comparing religious traditions is more than a matter of developing tolerance. In their meeting, he writes, a greater truth can be realized. He explains the power of a universal spirituality and its eight practical elements: solidarity with all life, moral capacity, nonviolence, self-knowledge, selfless service, simplicity of lifestyle, daily practice, and serving as a prophetic witness in the causes of justice, peace, and protecting creation.
Through scholarship, stories, and personal practice, Teasdale demonstrates that the final goal of authentic spirituality is realizing our true nature as mystics.
---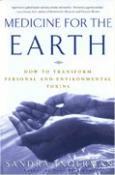 Medicine for the Earth

The Next Great Breakthrough in Energy Work: Healing the Earth Itself
From cross-cultural legends recounting shamanic cures to the biblical accounts of the parting of the Red Sea and Jesus multiplying the loaves and fishes, many spiritual traditions are rich in stories about seemingly inexplicable transformations of the natural world. The ancient healing art of transmutation, in which toxic substances are neutralized is mentioned in all the world's great spiritual traditions, including the shamanic, yogic, and Taoist texts. And while many have tapped this body of work to heal the self, it has yet to be used to heal our environment.
For twenty years, Sandra Ingerman has studied alternative ways to reverse environmental pollution. In this book, Ingerman takes us on a remarkable journey through the history of transmutation, teaching us how we can use this forgotten technique to change ourselves and our environment. She provides us with creative visualizations, ceremonies, rituals, and information on chants derived from ancient healing practices that produce miraculous, scientifically proven results. In one dramatic illustration of what can be accomplished when consciousness and awareness fuel our actions, Ingerman describes her own success in transforming the nature of chemically polluted water.
---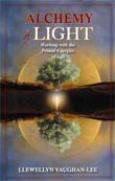 Alchemy of Light: Working with the Primal Energies of Life
by Llewellyn Vaughan-Lee
Alchemy of Light is a groundbreaking and unique approach to spiritual life and awakening, which reveals the real power of spiritual consciousness as an agent of global change. It explores how our spiritual light — the light of our true Self — is part of the spiritual light of the world, and as such is an essential catalyst to help the world heal and transform.
Delving into the inner world of archetypes and drawing on the ancient tradition of alchemy, Llewellyn Vaughan-Lee shows how to recognize and use one's light to work with the images that define our life, to change the collective dream from the present materialistic nightmare to one of sustainability and global unity. He takes the reader into the archetypal primal powers underlying life, and explores how to work with these energies for global rather than just individual healing and transformation.
Alchemy of Light is spiritual activism at its deepest and most potent: how through our spiritual practice we can directly help the world to evolve.
---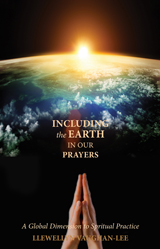 Including the Earth in Our Prayers: A Global Dimension to Spiritual Practice
by Llewellyn Vaughan-Lee
Including the Earth in Our Prayers tells a story of love and prayer, how spiritual practice is not just for ourselves, our own journey, but for life itself. It steps back to reclaim the wisdom of our ancestors, including the "Original Instructions" of Indigenous peoples—instructions that describe how we need to "get along" with all of creation—and relates these teachings to the need of our present time. With our ecosystem in crisis and our culture increasingly divisive, it suggests ways in which the energy and transformative potential of our spiritual nature can be applied to these critical issues, and reconnects us with a spiritual understanding of the living Earth.
The simple premise of this book is that there is a vital need to shift our collective culture from a story of separation and exploitation into a new story of living oneness, and that spiritual practice, and the love and light it generates, have an essential part to play in this shift.
(Including the Earth in Our Prayers is a revised and updated edition of Awakening the World: A Global Dimension to Spiritual Practice, which was originally published in 2006.)
---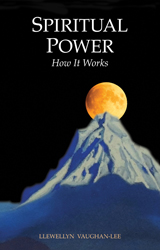 Spiritual Power: How It Works
by Llewellyn Vaughan-Lee
How can we use spiritual power to heal and transform the world? In this new, fully revised edition, Llewellyn Vaughan-Lee shows how spiritual activism addresses our current global crisis in a visionary and revolutionary way. He reintroduces us to the ancient wisdom of the power of the land, as well as the ways we can use our light and love to create real change. Spiritual Power: How It Works explores how spiritual practice and spiritual energy have a central part to play as a catalyst in the vitally needed shift from the story of separation—that lies at the root of our present ecocide—to a new story of the Earth's multihued unity. This is practical mysticism on a global level, the simple wisdom that can reconnect us to the magic of life and awaken us to its essential oneness.
---
Light of Oneness
by Llewellyn Vaughan-Lee
Humanity is awakening to the consciousness of oneness, the unity and interconnectedness of all of life.
Light of Oneness takes us into the mystical dimension of this work, to the real source of our global healing and transformation. It reveals that there are dimensions of light and darkness beyond our present understanding, how we can work with the energies of life in the inner and outer world, and how love is woven into the web of life. It explores the mystical relationship between consciousness and the energy of matter, how this energy can be awakened within the world. Light of Oneness also stresses the role of the feminine, how her natural understanding of life's wholeness and interrelatedness is pivotal to our evolution.
Light of Oneness offers an understanding of spiritual work that belongs to the future in which the knowledge of science and the wisdom of the mystic come together. It gives a global perspective to mystical activism that is vital if we are to help the world to awaken.
---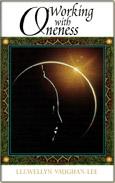 Working with Oneness
by Llewellyn Vaughan-Lee
We have been given access to the secrets of oneness, but we need to learn how to work with them. Working with Oneness brings mysticism into the center of the marketplace, to the world of business and technology. Llewellyn Vaughan-Lee stresses the need to change from hierarchical, patriarchal power structures to organic patterns that allow for the free flow of energy and ideas. Through these patterns the dynamic energy of oneness can become part of everyday life. This energy has the potential to heal the planet and revolutionize life more than we can imagine. The energy of oneness is already present but waiting to be lived. It needs the participation of individual consciousness to become fully alive and transform life. As we understand how our consciousness affects the whole fabric of life, the potential for real global change comes alive.
Working with Oneness is mystical activism at its most potent.
---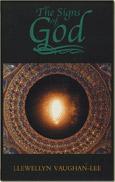 Signs of God
by Llewellyn Vaughan-Lee
The Signs of God explores the importance of mystical consciousness at this time of global transition. In the depths of the heart is hidden the secret purpose of creation, which is the key to our present time of transformation. The work of the mystic is to make this key accessible to humanity, and so open the doors of revelation. The possibilities of the future are present but veiled; the joy of life is waiting to return. The mystic can help us to awaken to the oneness that is essential to life, and to recognize the signs of God that will guide us and reveal our true purpose.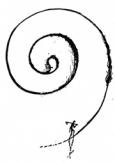 Archetypal Journeys
by Llewellyn Vaughan-Lee
For seven years, starting in 1987, I led a series of "Archetypal Journeys," imaginative ventures into the inner world and experiences with the archetypal energies that live there. Now over twenty years later I begin to understand how these archetypal experiences prefigured much of the global changes and shift in consciousness that belong to the awakening of oneness.Real changes first begin deep in the inner worlds, and only now do I realize what it was that we were shown on these journeys. That is why I decided to share these inner imaginal experiences, to include this archetypal dimension of the changes that we need to welcome.
Related resource: Mp3 download of A New Archetype: A 10 min. audio clip about the new archetype of our time. Recorded January 2011